Customer Reviews
Write a Review
Ask a Question
Great Wallet!
So.... I did many days of research and watched hours upon hours of videos. Hands down the best choice. Easy to use, great design, and so convenient! If your on the fence - just do it you won't be disappointed!
Great wallet
This is probably the best minimalist wallet out there.
Navy blue
Better than a regular wallet
Great little wallet
I love my Stow wallet. Compact but efficient. Works exactly as advertised.
10/22/2020
James Holloway Jr.
My Stow
My overall experience with the stow is vs my last wallet is 10x better. The easy access to all my CC is just what I was looking for and no bulk inside my pants. One downside I noticed is my platinum Amex card which is the card I use the most strips away some of the plastic of the wallet a few times when I placed card back into stow. Other than that the wallet is a great buy.!
Awesome wallet
This is the coolest wallet ever. I hoarded every piece of paper known to mankind in my other wallet. The Stow wallet has tamed that beast. This a minimalist wallet indeed. Highly recommend this wallet for you.
Love this wallet
Love the functionality of this wallet, it really solved the problem of getting those cards in the middle out without removing other cards out compared to other minimalist wallets in the market. Hope to see more colors and other functions such as bottle opener/ emergency break glass tool/ multi tool kit on the wallet
Awesome :)
This wallet is really amazing. its function really works. I come from the ridge wallet and it is good but Stow gives you the advantage of using all your cards, no matter if they are in the back or in the middle that is not a problem for this wallet. I have the navy blue and now I am waiting for another color. I'm very happy with this wallet. :)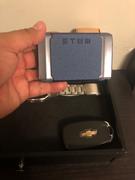 Great wallet
I got this wallet due to its unique style and how small it is. I'm very impressed so far. I've had it a few weeks now.