Customer Reviews
Write a Review
Ask a Question
01/21/2021
Khalil F.

United States
Xsto wallet
My overall experience with this wallet has been excellent. The xsto wallet is my first wallet that wasn't a bifold or trifold, I highly recommend this wallet.
01/21/2021
Rance H.

United States
Love the Walet
Great small I feel my pocket to make sure it's in there easy to use
01/20/2021
Joseph C.

Australia
New to Minimalist wallets but will never go back to traditional!
I have used traditional wallets for almost 40 years and this was my first minimalist wallet. After tonnes of research, I found the XSTO seemed to be the best choice and I am so glad. It does exactly what I need it to do in exactly the way I want it to. I love it! I havent done extensive testing but the cover plate seems to allow my Tesla card to work but blocks my CC. This is the perfect scenario for me. I will be getting another one but this time personalising it.
01/20/2021
Jason B.

United States
A wallet worthy of my pocket!
This is one fantastic, very thought out wallet. Lightweight, sleek, strong, and sexy! I was blown away at the speed at which Akeeni works. Within 2 days it was on its way to me. So easy to use, and very secure - cards click in and stay in. Showed it to my sister, and she plans to order one for her husband.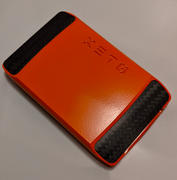 01/20/2021
Ronald P.

United States
01/20/2021
Phillip B.

United States
RD
01/20/2021
Raul D.

United States
Great wallet
This is a great aluminum wallet. The concept is great, functions well
01/20/2021
Pedro D.

Belgium
Perfect
I bought the XSTO for my brother as a birthday present and it was spot on. He likes it a lot, small, practical, personalized, it ticks all the boxes. I'll probably personalize another one...but for me this time!
01/20/2021
Florin B.

Canada
Count me impressed!!
Terrific design concept, top notch materials, attention to finishing details, and an overall classy yet rugged character. Highly recommended!
01/19/2021
Keenan K.

Singapore