Customer Reviews
Write a Review
Ask a Question
01/21/2021
Rance H.

United States
Love the Walet
Great small I feel my pocket to make sure it's in there easy to use
01/20/2021
Joseph C.

Australia
New to Minimalist wallets but will never go back to traditional!
I have used traditional wallets for almost 40 years and this was my first minimalist wallet. After tonnes of research, I found the XSTO seemed to be the best choice and I am so glad. It does exactly what I need it to do in exactly the way I want it to. I love it! I havent done extensive testing but the cover plate seems to allow my Tesla card to work but blocks my CC. This is the perfect scenario for me. I will be getting another one but this time personalising it.
01/20/2021
Jason B.

United States
A wallet worthy of my pocket!
This is one fantastic, very thought out wallet. Lightweight, sleek, strong, and sexy! I was blown away at the speed at which Akeeni works. Within 2 days it was on its way to me. So easy to use, and very secure - cards click in and stay in. Showed it to my sister, and she plans to order one for her husband.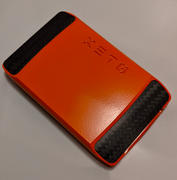 01/20/2021
Ronald P.

United States
01/20/2021
Phillip B.

United States
01/20/2021
Raul D.

United States
Great wallet
This is a great aluminum wallet. The concept is great, functions well
01/20/2021
Pedro D.

Belgium
Perfect
I bought the XSTO for my brother as a birthday present and it was spot on. He likes it a lot, small, practical, personalized, it ticks all the boxes. I'll probably personalize another one...but for me this time!
01/20/2021
Florin B.

Canada
Count me impressed!!
Terrific design concept, top notch materials, attention to finishing details, and an overall classy yet rugged character. Highly recommended!
01/19/2021
Keenan K.

Singapore
01/19/2021
Joshua

United States
Blown Away
I have had a traditional bifold since I started carrying a wallet. I never liked sitting on it and I hated having cards crack or the mag strips wear out from the friction. I came across the Xstow and decided to give it a go. I am in love! I got the 8 card. I have 8 cards in it (2 embossed) and there is still room. My super flimsy health insurance cards go perfectly in the business card holder. Best of all though, it is so compact I can carry it in my front pocket and don't even notice it. Swapping cards around is a breeze and honestly quite fun. I won't ever go back to a standard wallet and I'm sad it took me this long to find this one. I will also note I ordered this around 3 p.m. It was shipped same day, and got to me very quickly.