Customer Reviews
Write a Review
Ask a Question
04/14/2021
Rick

United States
Ticks all the boxes
I have far too many minimalist wallets, it's a problem :) But, I have to say that my custom XSTO ticks all the boxes and is my favorite: - Small and light: I do not feel it in my pocket. That is a crucial need for me. Note: The XSTO will also fit in your little pocket in your jeans! - Beautiful: Mix of metal, colors, carbon fiber, and custom design...awesome! - Build quality: Top notch, feels excellent in the hands, and will last a long time. - Functional: This is, of course, a big one. Being able to pull out a card quickly is essential when standing in a check outline. The XSTO winds hands down over many of my other minimalist wallets, including the Ridge. - Accessory carry: Not many folks discuss this. But being able to carry and quickly deploy my glasses, toothpick, tweezers, and titanium multi-tool is handy. See pictures. - Price: I own some wallets that were almost $200 and others that were $20. This one hits the sweet spot at around $60. Great job!
04/14/2021
Jordan R.

United States
Love these things
I love the wallets would just wish the accessories came in the same wallet colors for a monochromatic feel
04/14/2021
Daniel D.

United States
Perfect Wallet
Going from a traditional wallet to the Akeeni XSTO, is like traveling in time. I tried the Ridge type wallets and it was a pain to get a card out. I have the 10 card and 4 card versions of the XSTO and I highly recommend them. The size is great, easy to get out your cards, I couldnt be happier.
04/14/2021
Jens B.

Switzerland
Best wallet I know
I have compared the XSTO with some of it's closest rivals and found it to be the near perfect solution for me. The possibility to add our company logo is the icing on the cake. Great product and reasonable shipping costs to Europe.
04/13/2021
Roy K.

United States
Best Minimalist Wallet
Compact wallet, holds a lot of cards, does a Great job! Everyone should have one!
04/13/2021
Bryan R.

United States
Great in all areas!
This wallet is great! I have had about 4 or 5 wallets over the last two years that I have been using but this one will be my main go to! I highly recommend using the carbon card protector if you plan on holding business cards. I didn't realize that you could get it personalized because I would have done that in a second!
04/13/2021
Jim A.

United States
Great design
I am always looking for the best made minimalist wallet I can find. This one is about as small as you can get. The design and ease of use are what really makes this wallet special. I love it
04/12/2021
Dave M.

United States
Best wallet I've tried
PROS: Minimalist and compact (credit card sized, with the depth of maybe an iPhone). Sturdy. Lightweight. SO much easier to shuffle through and access cards quickly and efficiently! Exceptional -- it truly is the last wallet I'll ever need! I was hesitant to transition from soft wallets to hard, but there's no reason to go back. TIPS: absolutely get the cover plate -- it'd feel weird not having a cover plate, with my top card exposed (unless it's on purpose for a hotel room card or tap-to-pay credit card---two great uses of an XSTO). The cover plate "closes" my wallet and gives me peace of mind to know I didn't lose any cards (PS I've had zero problems---my cards never move, until I move them, but still it just feels more secure with the cover plate). Also, the carbon fiber business card cover is well worth the small upgrade cost, and looks cool too. Lastly, I debated between the 4-card and 6-card size and chose 6. But the 4 would've been sufficient (though I like the 6 in case I need more space later). In my 6-card XSTO I fit: main compartment (cover plate + driver's license + 2 credit cards + work ID card + several folded bills underneath), business card compartment (carbon fiber business card cover + 2 other credit cards + health insurance card). I still have room to fit another card plus cash into the main compartment CONSIDERATIONS (not "cons", just adjustments): it's so much smaller and lighter than my traditional wallet that I forget it's in my pocket (for that reason, tip: consider a bright color---I love my XSTO but it's black, so I often worry I'll leave it on a black table, chair, or surface or it might slip out of a pocket or something --- you'd FEEL a traditional wallet slip out whereas this you may not, so, I'd 100% buy this again but would just opt for a brighter color). For the same reason, consider paying a little more for custom text to have your contact info printed, in case you lose it. Now if you carry a lot of photos, condoms, etc. maybe this won't work well ---but if you just carry cards and cash, it's perfect for anyone seeking to un-bulk a bulky wallet. It does take more time to access cash compared to a traditional wallet since cash is hidden beneath your cards (plus folded), but, I rarely use cash anymore anyway and the space savings makes it well worth that small sacrifice. One other thing: I now question which pants pocket to put this in (with keys, or with phone?) because a hard wallet could scratch or be scratched by either, compared to my old soft wallet...I didn't have that worry before. But on the flip side, my XSTO fits easily in jacket pockets and places my bulky old wallet never would have. So it's usually not an issue at all, as I have more pocket options now. It's so small it makes my iPhone feel HUGE now lol. I love the XSTO: it's secure and so efficient, plus I don't "feel" my wallet. Love it.
04/12/2021
Jacob T.

United States
My favorite wallet
An absolute delight to use. Fits in the pocket great. 2 credit cards, 1 debit card, driver's license, medical insurance card, dental insurance card, and enough room for cash, too! Completely full it weighs only a little more than my old leather wallet weighed while completely empty! Hope it lasts me the rest of my life!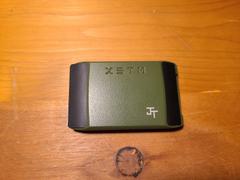 04/12/2021
Sergio G.

United States
Amazing Wallet
The communication and shipping exceeded my expectations. The quality and functionality of the wallet is perfect. You literally cannot make a better wallet. A must try for those seeking a diff wallet. Holds keys, change, cash, and business cards what more do you want.